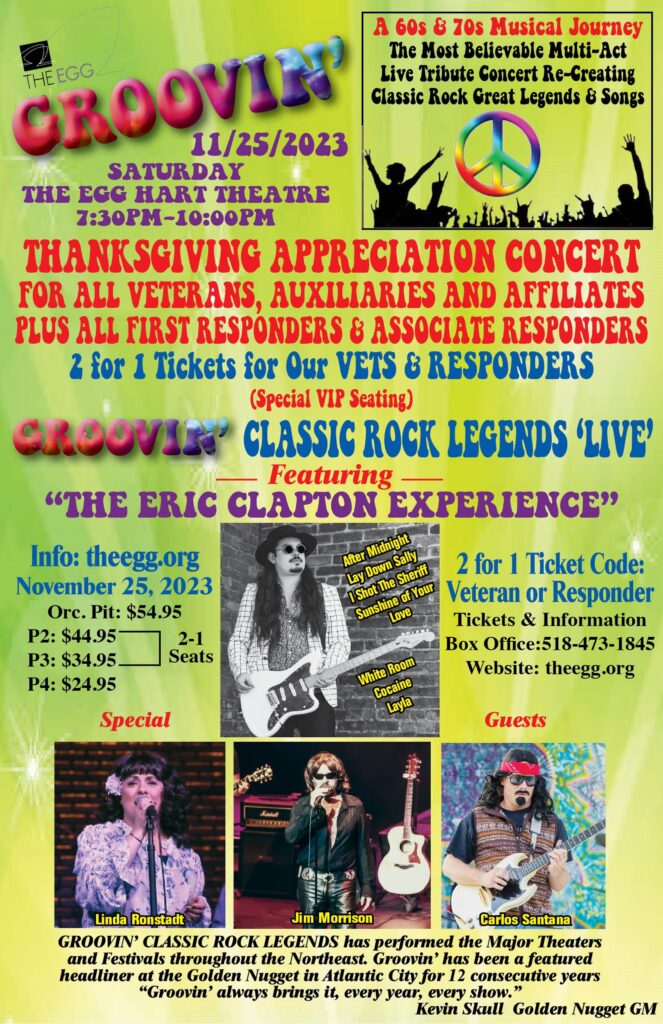 Buy Tickets Groovin' – Classic Rock Legends Live
Music Saturday, November 25

•

7:30pm

•

$44.95
Part of the Guest Music Presentations Series
A 60s – 70s Musical journey with the most BELIEVABLE multi-act tribute, recreating classic rock's Legendary artists.
Click the links below for a preview:
CREAM "WHITE ROOM" performed by TONY GARZA
DOORS "LA WOMAN" performed by GARY WEINLEIN
ERIC CLAPTON "AFTER MIDNIGHT" performed by TONY GARZA
LINDA RONSTADT "HEAT WAVE" performed by FRAN O'Neill
SANTANA "EVIL WAYS" performed by PAT GINNELLY
THE #1 MULTI-ACT TRIBUTE SHOW FROM THE CAPITAL
DISTRICT RETURNS TO THE EGG HART THEATRE WITH A
SPECIAL THANKSGIVING CONCERT IN APPRECIATION TO
OUR VETERANS, 1 ST RESPONDERS, AND ALL RESPONDERS.
THIS YEARS THANKSGIVING CONCERT WILL PROVIDE OUR
VETERANS AND AUXILLARY GROUPS, ALONG WITH OUR
FIRST RESPONDERS, HOSPITALS, EMPLOYEES & AFFILIATED
RESPONDER GROUPS, A SPECIAL 2 FOR 1 TICKETING IN THE
SELECTED VIP SECTION AT THE EGG HART THEATRE.
GROOVIN' HAS JUST PERFORMED THEIR 12 TH CONSECUTIVE
YEAR HEADLINING AT THE GOLDEN NUGGET IN ATLANTIC
CITY. THE PRODUCTION ALSO PLAYS THE MAJOR THEATERS
AND FESTIVALS THROUGHOUT THE NORTHEAST REGION
RECREATING THE SIGHTS AND SOUNDS OF THE 60s & 70s.
THIS YEAR WE ARE VERY EXCITED TO FEATURE FOR THE 1 ST
TIME EVER AT THE EGG, "THE ERIC CLAPTON EXPERIENCE"
WITH SPECIAL GUESTS, CARLOS SANTANA, LINDA RONSTADT,
AND JIM MORRISON.
THIS CONCERT IS FOR EVERYONE, ESPECIALLY THE YOUNG
AT HEART. SO GRAB A HOLD OF YOUR GROOVE FOR AN
UNFORGETABLE JOURNEY DOWN MEMORY LANE.
Presented by Classic Rock Productions