About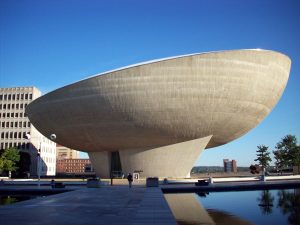 Welcome to The Egg – the Empire State Plaza's Center for the Performing Arts.
"The Egg" itself is owned by the State of New York and managed by the not-for-profit Nelson A. Rockefeller Empire State Plaza Performing Arts Center Corporation. This entity was established to present quality performances, accessible to all citizens of New York State, highlighting the unique and extraordinary artists from New York State, across the country and around the globe. Through partnerships and collaborations, the Corporation presents performances, spotlights emerging artists, fosters relationships with resident companies, and enhances activities in cultural and arts education.
Performing Arts Presentations
Dance: Dance New York, Dance – The World, Family Dance
Family: Family Wonders includes music and theatre productions
Music: American Roots & Branches, Rhythm International
Theatre: Occasional offerings of classic and modern drama
Arts-in-Education: Performing arts events for school groups
Made in The Shade of The Egg: A free series of outdoor summer performances
Special Initiatives
"New Work, NY": Commissioning, encouraging and/or presenting new or recently created works by New York State performing artists including projects by Don Byron, Mark O'Connor, David Gonzalez, Ellen Sinopoli, Daniel Bernard Roumain, The Zucchini Brothers and Brian Melick.
"New York Living Legacy" project: Celebrating the work of legendary New York State performing artists through performances and community outreach activities. Specific legacies explored have included George Gershwin, Leonard Bernstein, Paul Taylor, Jazz Dance, NY Banjo, The Folk Renaissance and The Beatles in NY.
"NY: The State of the Arts": An educational performance that demonstrates the importance of the performing arts in the history of New York State was commissioned and presented to school groups, free of charge.
New York State Presenters Network: A collaborative effort with the New York State Council on the Arts to develop a data base as well as touring and funding opportunities for New York State presenters and performing artists.
The Egg is also utilized by a multitude of professional and community organizations that present a variety of performances as well as cultural and corporate institutions that host various events. For information on renting the facilities at The Egg, please CLICK HERE
For information on the history and construction of The Egg, please CLICK HERE