Visit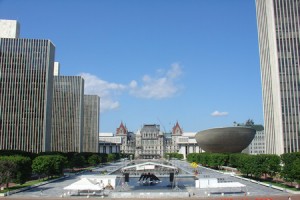 The Egg is located at the historic Empire State Plaza in Albany, the State Capital of New York.
Before capping off your day with an evening concert at The Egg, plan on viewing many of the area attractions within walking distance. Start at the Empire State Plaza Visitors Center to see what special events may be scheduled, and allow time to visit the NYS Museum, the historic NYS Capitol Building, and the Empire State Plaza Art Collection or check out the view from the Corning Tower Observation Deck.
Downtown Albany also offers a variety of fine restaurants – many within walking distance of The Egg.